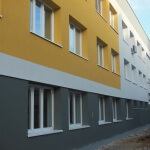 Current information and photographic documentation on the progress of the works carried out as part of the project entitled. "Improving energy efficiency in the buildings of Regional Hospital in Kolobrzeg" implemented under the Operational Programme PL04 "Saving energy and promoting renewable energy sources".
Sanitary installations:
Completed installation of thermal insulation, central heating risers.
Completed installation of hot water levels.
Ongoing work in the solar exchanger node.
Ongoing assembly of solar installation levels.
The assembly of risers installation of hot water and circulation has begun.